Competitor Analysis
Have you been trying to understand what your competitors are doing in the online space and understand how their website is performing, what are the top keywords, which pages are bringing the traffic to their site?

SerpYou is the one-stop destination if you have ever thought about tracking your competitors. SerpYou provides you vital and key performing keywords of your competitors, an important aspect for businesses to keep an eye on the market, trends, and SEO keyword analysis to carry out marketing activities. The web-based tool will allow you to track global web traffic for your website as well as your competitors' websites. The SerpYou has a special tab on the main menu which pulls out the competitors' list over the targeted keyword set.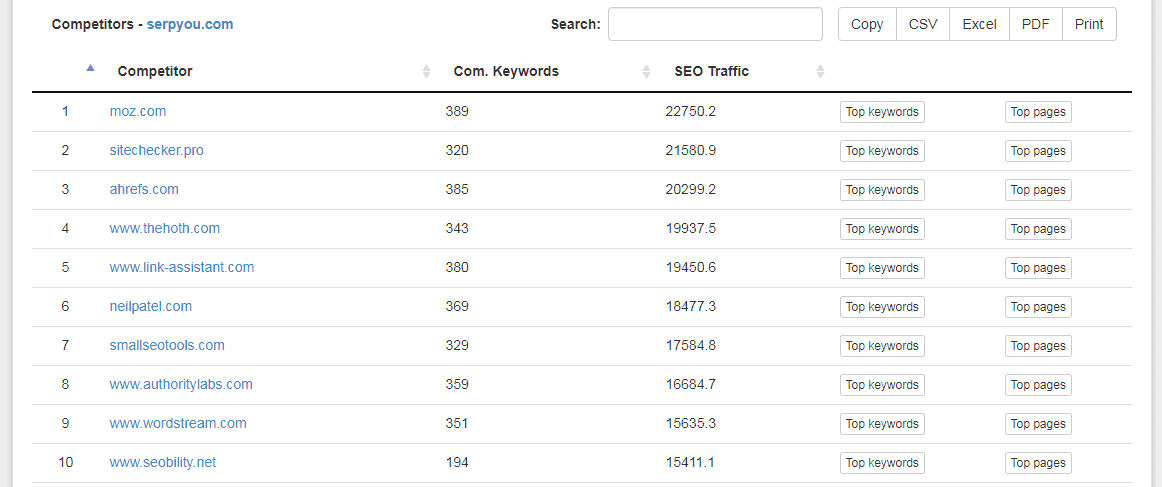 Stay on top of your business and win every SEO battle online. While you keep an eye on your competitors and understand what they are doing and if you want to beat your competitor in an SEO battle, it is important to understand what your competitors are doing and see if you have a chance of winning the battle. With SerpYou, get a list of competitors who are in the same business and the keywords which your competitors are using to target the online customers searching on the web from different parts of the world. Based on the search query, organic links, and sponsored links the SERPS i.e. Search Engine Results Page provides the results for different regions across the world. SerpYou enables you to search for a competitor, track their keywords, see the keyword ranks, SEO traffic, top-performing keywords, and top pages. Uncover the content and backlinks that is working for your competitors.

Measuring your competitor will allow you to make data-driven business decisions. Measuring will help you understand where your competitors are putting their money, common keywords, unique keywords, and backlinks. The marketing activities carried out post the competitors' analysis, you will gain increased web traffic, you will be able to track keyword rankings, and convert more from your business.

Get the Forensic Competitors keyword Report!
SerpYou lets you download the competitors' most profitable keywords list for paid and organic search. The competitor keyword report can be downloaded in CSV, Excel, PDF formats.

Sign Up today for a free trial and track up to 20 Keywords!
Get a bigger picture of your competitors and see how your site stacks up. Get a detailed report and understand the top keywords being searched. You will have the visibility to see the top 200 competitors in Google results for your keywords and know who has the top overall visibility along with the SEO traffic and the search volumes.

---
---